Dog Boxes & Accessories
"Ready to Go" Dog Box Combination
RDS Southern Dog Boxes have keyed locking doors.
The slats are well spaced to give plenty of ventilation,
and inside the box the slats have rolled smooth edges to protect dogs.
Shown here bolted on top are the Tracking Collar Box,
and the 5 Gallon Water Tank.
More rigs shown below.
Southern Dog Box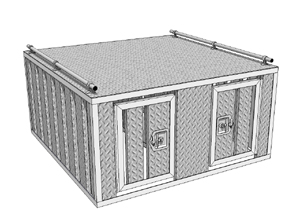 70526
| RDS # | Layout | Width | Length | Height |
| --- | --- | --- | --- | --- |
| 70863 | 2 Door | 24" | 48" | 24" |
| 70526 | 2 Door | 48" | 48" | 24" |
| 70527 | 2 Door | 48" | 60" | 24" |
| 70525 | 1 Door | 36" | 48" | 24" |
| 70979 | 2 Door | 36" | 48" | 24" |
| 70690 | 2 Door | 48" | 32" | 24" |
| 70700 | 1 Door | 48" | 32" | 24" |
Tracking Collar Box
71532

| RDS # | Width | Length | Height |
| --- | --- | --- | --- |
| 71532 | 34" | 34" | 6" |
5 Gallon Water Tank
72014
| RDS # | Width | Length | Height |
| --- | --- | --- | --- |
| 72014 | 6" | 34" | 6" |
Custom Rigs to Fit Your Designs